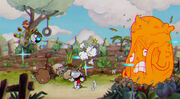 Moe Tato is the first sample boss from Botanic Panic.
Moe Tato starts of the stage by shooting projectiles like dirt balls and worms which can be parried. Moe Tato will not actively attempt to aim at Cuphead and Mugman, and will fire obstacles, like the Ribbit Brothers' stage and All Aboard the Phantom Train.
Moe Tato is one of the first sample bosses of the game from several reasons:

The most simple and only pattern of attack
It's also one of the very first sample bosses to be defeated

It was one of the few sample bosses playable in the 2015 demo.
Moe Tato is a pun of "Potato"
Ad blocker interference detected!
Wikia is a free-to-use site that makes money from advertising. We have a modified experience for viewers using ad blockers

Wikia is not accessible if you've made further modifications. Remove the custom ad blocker rule(s) and the page will load as expected.