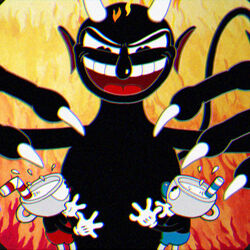 Cuphead
is an upcoming 2D run-and-gun shooter video game developed by brothers Chad and Jared Moldenhauer as
Studio MDHR
, drawn in the style of 1930s cartoons. The game follows the exploits of
Cuphead
and
Mugman
after they lose to
The Devil
in gambling. To repay their debt, they must take down several bosses to earn back their freedom.
Cuphead is scheduled for release on September 2017 on Xbox consoles and PC.
Development
Edit
Cuphead is the first game by Studio MDHR, a indie game development studio consisting of brothers Chad and Jared Moldenhauer. Its development began in 2010, and they worked on the game from their respective homes in Toronto and Saskatchewan. The game was inspired by 1930s cartoons such as that of Fleischer Studios, Disney, and cartoonists Ub Iwerks, Grim Natwick, and Willard Bowsky, particularly their most "subversive and surrealist" elements. Chad Moldenhauer called Fleischer Studios "the magnetic north of his art style".
The animation techniques behind Cuphead are similar to that of the 1930s cartoons. Chad Moldenhauer, who had previously worked in graphic design, would hand-draw the animations and paint the backgrounds. He colorized the characters in Photoshop—their sole change from the 1930s process. He also saw his process with its human imperfections as a reaction to the perfectionism of pixel art and, hence, a reimagining of retro games. His brother, Jared Moldenhauer, worked on other aspects of the game, though they would discuss gameplay design together. Their studio hired a Romanian developer, Brooklyn animator, and Ontario jazz musician for the project. They sought to keep the recording processes of the 1930s as if the team were developing in that era
Though the game was shown during the Xbox press event of Electronic Entertainment Expo 2014 to audience approval, Cuphead was not available to play. The game's art was estimated to be 40 percent complete as of July 2014. Cuphead is expected to be extended via expansion packs. with 10 to 15 bosses each, similar to how Sonic & Knuckles added atop the Sonic series formula.
Cuphead is a run and gun game. As the titular Cuphead, the player loses a bet with the devil and spends the game attempting to repay the bet. The game features a branching level sequence[1] and is based around continuous boss fights. Cuphead has infinite lives and keeps weapons between deaths. The levels are accessible through an action RPG-style world map with its own secret areas. The game has a two-player cooperative mode that adds another human player to the single-player boss battles playing as Mugman.
Ad blocker interference detected!
Wikia is a free-to-use site that makes money from advertising. We have a modified experience for viewers using ad blockers

Wikia is not accessible if you've made further modifications. Remove the custom ad blocker rule(s) and the page will load as expected.