"So clever, so dapper, ya betta' believe this page will be finished. Hi-de-ho!"

This page is not finished! Please add more information to make it finished.
Railroad Wrath is the boss level from Inkwell Isle Three. It is unlocked via completion of all the platforming levels and boss levels from World 3 and its own completion unlocks the path to Inkwell Hell.
Strategy
Recommended
Shoot the ghosts and pumpkins. Parry if needed.
It is recommended to use Charge shot and Spread.
Phase One
This is the only form you are recommended to use Spread shot. Use it and keep shooting. Shoot pumpkins and parry. (If necessary)
Phase Two
You will be required to be in a spot where T-Bone's hands can't hit you. You don't always have to shoot the pumpkin and parry its ingot bar, but you might want to if T-Bone's hands are down. Keep using Charge shots and Supers if you want to get a higher grade.
Phase Three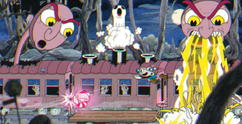 In this stage, you want to start attacking the Blaze Brother that doesn't attack first, then keep Charge shooting the opposite Blaze Brother .
Shoot and parry the ghost if needed, and you'll be heading towards the Head of the Train.
Phase Four
Parry the Head of the Train's tail and keep using Charge against his heart. Super if you want to get a higher score, and make sure to dodge the collar bones by jumping or ducking. Make sure you can fight off the pumpkins and ghosts, and then you'll be able to proceed to Inkwell Hell.
Music
Walkthroughs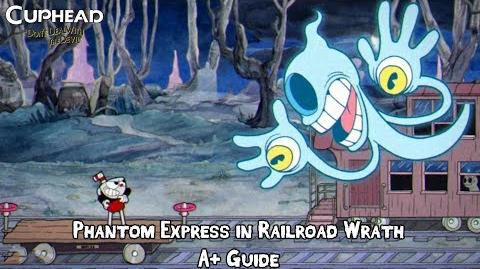 Ad blocker interference detected!
Wikia is a free-to-use site that makes money from advertising. We have a modified experience for viewers using ad blockers

Wikia is not accessible if you've made further modifications. Remove the custom ad blocker rule(s) and the page will load as expected.